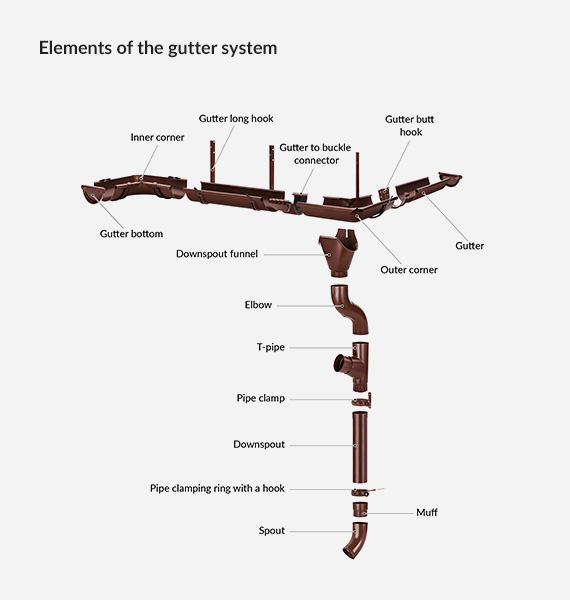 The ORINO system of metal roof drainage is a complete and durable system allowing draining of atmospheric waters.
Mounting is very simple, does not require soldering nor using any additional linking materials.
Latch mounting and implementation of a wide, rubber seal on linking elements guarantees tightness, easy mounting and fitting of the whole system.
High quality materials and a modern production line enable producing a durable roof drainage system.
This is the reason why we give to 25 years of guarantee!!!
Used patterns fit both traditional and modern constructions.
We offer two sizes of the system Ø125/87 and Ø150/97.
The ORINO metal roof drainage system is made of the highest quality galvanized steel sheet 275 Zn/m2, covered with priming on both sides.
Due to this, the first layer protects against harmful atmospheric factors, especially against corrosion.
The most important layer is high quality polyurethane coating.
At the moment it is the most durable and best coating in the market used on metal surfaces. Its characteristic features are high resistance to atmospheric factors, like rain or sunlight. It protects against corrosion and, what is very important, is resistant to decolouring.
What is more, the polyurethane coating is aesthetic and its subtle gloss gives a discrete freshness to modern and traditional buildings.
All the layers protecting the steel sheet are put on its both sides which makes the product fully protected.
Downloads

Catalog

Price list

Installation instructions